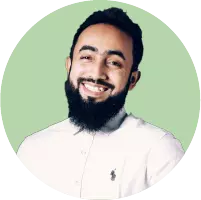 Nazmus Sadat is an entrepreneur by blood & actions. He has taken different initiatives to solve problems, create solutions and to make things better in different areas of life since his childhood. From charity to social entrepreneurship, peace-building to fighting for a circular economy, he has been actively leading initiatives, especially, since 2013. He was one of the two inaugural organizers of Hult Prize in Bangladesh in 2014 & 2015, which has now become a nation-wide movement for his award-winning PR & Marketing in this region. For his outstanding performance, he got nominated as one of the Top-10 Campus Directors across the world, and got invited to attend Dinner with President Bill Clinton & others. He was a Co-founder & the first executive President at the prestigious BUET Entrepreneurship Development Club(BEDC). He takes pride in building the base of entrepreneurial movement & team at the country's most reputed engineering university. In fact, he spent a big part of his university life in co-curricular & extra-curricular activities like leading & building the base of The Material Advantage Society (BUET Chapter). He interviewed many leading industry veterans (like CEOs, Vice Chancellors, Artists, Scientists & Heads of different local & international agencies) for "Life Carnival". To him, it was a transformational experience for his inquisitive mind.

Besides, he was affiliated with dozens of local & international organizations in peace & conflict, environment & sustainability, and entrepreneurship development areas. He was a Generation Change Fellow at United States Institute of Peace (USIP) and now he is playing the voluntary role of Youth Country Liaison for Bangladesh, Sri Lanka & India at USIP. Above all, he has been working for sustainability since 2013. During his studies of Materials & Metallurgical Engineering, Nazmus Sadat worked on projects like Solid Oxide Fuel Cell(SOFC), Composite from PP & Jeans, Value Metal Extractions from E-wastes. Later he focused on waste management, particularly, e-wastes & other solid wastes management. He got certificate on E-waste Management, Recycling & Policy making from E-waste Academy organized by UN University, GIZ, WRF & others at Bangkok in 2018. Due to COVID-19, he had to postpone his project(worth over 20m Euro) on e-waste recycling in collaboration with Swiss Bank & other equity investors from UAE, Switzerland & Germany. During COVID-19, he was the first Chief Growth Officer at NITEX, a Singapore-based sustainability-oriented, fashion-tech startup for over two years. His role at NITEX made him take care of the entire global affairs of the organization and a significant portion of hr, finance, external communications & multi-dimensional problem solving.

In personal life, Nazmus Sadat is an intraverted seeker, a misfit, kind & giver but not-so-agreeable person, as he describes himself. For a long period of time, he used to be someone who wants to change the world. But now he thinks it should be the opposite. His purpose & the thirst for multidisciplinary & multidimensional knowledge dictate his current life. "In all chaos there is cosmos, in all disorder a secret order" is what he strongly believes in. And a quote from Shams Tabrizi (RH) that he holds dear to his heart is,
"When everyone is trying to be something, be nothing. Range with emptiness. Human should be like a pot. As the pot is held by its emptiness inside, the human is held by the awareness of his nothingness."